2023 December PMI-NEFL Mingle and Jingle Holiday Celebration at Main Event!
When
Monday, December 11th at Main Event:
5:30-6:30 Dinner (Viva La Fajita Chargrilled steak & chicken fajitas with roasted peppers, onions & warm tortillas. Served with shredded cheese, pico de gallo, sour cream, shredded lettuce & pickled jalapenos Chihuahua cheese quesadillas with sauteed poblanos and onions. Southwest rice, refried beans, House made guacamole, queso with chips & fire-roasted salsa. Aso desserts and a hot chocolate bar!
· Join us in our reserved area for networking and socializing!
6:30pm-8:30pm
· 2 hours All you Can Play: enjoy unlimited play of bowling, billiards, laser tag.
*1 reserved lane per 20 guests
* Bowling Shoes included
· 1 hour of Arcade fun! 1 Hour of all you can play video games. No points or prizes awarded. Not valid for VR play. Only valid day of event. Rainbow colored card readers only.
Where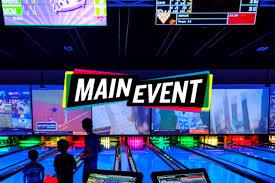 Main Event Jacksonville 10370 Phillips Hwy Jacksonville, FL 32256
Agenda
Holiday Mingle and Jingle Presented by PMI-NEFL Board
We want to celebrate you, our members during this holiday season! Join us at the Main Event for a 2-hour private party including Social and Buffet plus Bowling, Billiards, Laser tag and Arcade fun! * Buffet Includes Fajitas, quesadillas, desert, a hot chocolate bar, and more)
PMI-NEFL is covering the cost other than a nominal registration fee as a way to say thank you to you our members and to kick off our return to in person meetings! Please join us to socialize, network and enjoy some baseball!
Open to members only for $5.
Register for this event